Calcium Complex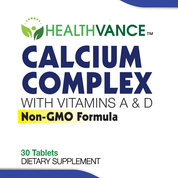 Description:
This Dietary Supplement from Well Aliments is formulated with Vitamin A, Calcium and Vitamin D, which helps absorption of Calcium, with the following benefits:
MAY PREVENT OSTEOPOROSIS LATER IN LIFE ‐ especially in the elderly whose bone loss exceeds bone formation and postmenopausal women whose lower estrogen levels result in more bone loss, and with all the problems of estrogen replacement therapy including risks of breast cancer, calcium complex with vitamin D is a great alternative that protects from the high risk of fractures and other complications of osteoporosis.
ANTI AGING AND ANTI CANCER In addition the complex also contains vitamin A, which is a powerful antioxidant that may reduce the risk of cancer and slow the aging process as oxidative stress which causes DNA damage has been linked to aging and cancers. Vitamin A is also important in maintaining healthy vision, as it helps formation of an important protein that absorbs light in the retina. Furthermore, it supports the function of the heart, lungs, kidneys and other organs which may be impaired in old age.
Your Trusted Partner in USA


Vitamins - Beauty & Skin-Care - Sports Nutrition
Request A Quote?
Have questions & prefer to speak to a Representative directly?